Free DPD Delivery on Orders Over £75
Put A Spring Back In Your Step
October 12, 2015
Boswellia
The indian Ayruvedic system of herbal medicine has long used the large Boswelllia tree for the treatment of inflammatory joint problems, diarrhoea and dysentery. The tree trunk is tapped to collect the redin of the Boswellia tree and it is a purified extract of this resin that is used in modern herbal products. Plant resins are sticky, wax like substances often secreted by plants in response to damage. The resin then hardens to offer the damage a protective coating. Resins soften upon heating to yield essential oils, gums or both. Resin acids, such as Boswellic acids found in Boswellia are part of the chemical make up of these oils and gums.
The Benefits of Boswellia
Boswellia's main application is the pain management of virtually any inflammatory condition.Boswellia is not associated with the side effects of Non Steroidal Anti Inflammatory Drugs, which may upset the stomach. An illustration of the gentle nature of Boswellia is its use in inflammatory bowel disoders, e.g ulcerative colitis. In thse cases, where even minor irritants can trigger symptoms, boswellia does not increase the risk of damage, irritation or ulceration of the digestive system.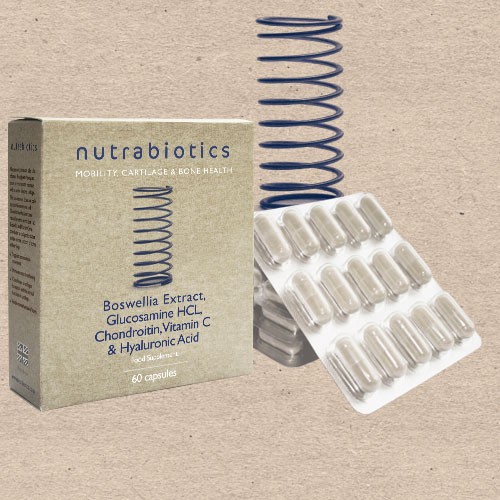 Main uses of Boswellia
Inflammatory Joint Pain,  Asthma, Oesteoarthritis, Pain management, Rheumatoid arthritis, Sports injuries, Bursitis and Ulcerative Colitis.
Nutrabiotics Bosewellia Extract, Glucosamine HCL, Chondroitin, Vitamin C and Hyaluronic Acid 60 x 1000mg capsules
  Muscles and joints can take a lot of stress throughout the day and these pressures can increase with an active lifestyle and age.
This supplement does not only contain Glucosamine and Chondroitin that are found naturally within joints but also our unique patented Boswellia Extract and Vitamin C that contributes to collagen formation and the normal function of bones and cartilage.
Helps support joints from the wear and tear of everyday life
Supports comfortable movement, aids stiff joints and supports mobility & flexibility
Contributes to collagen formation and the normal function of cartilage and bones
Includes our unique patented Boswellia Extract
Combines Boswellia with Glucosamine and Chondroitin
Highest quality natural ingredients
Ethical and sustainably sourced ingredients
No chemical compounds or added stimulants
Manufactured to GMP standards

Manufactured in the UK [shopify product=http://shop4supplements.co.uk/products/nutrabiotics-boswellia-extract-60-capsules]        
Leave a comment
Comments will be approved before showing up.
---
Also in Shop4Supplements Blog