Free DPD Delivery on Orders Over £75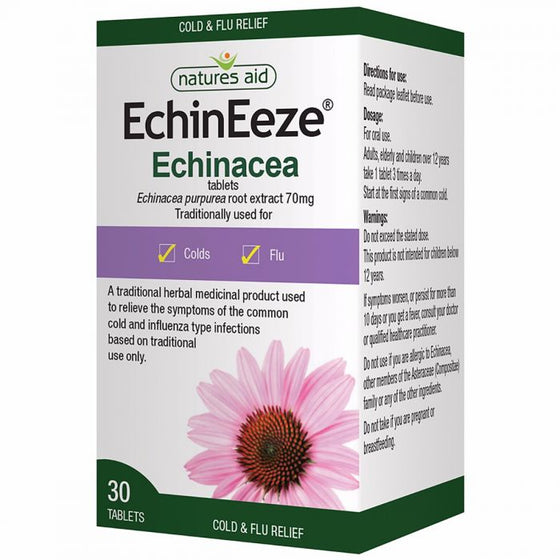 Natures Aid EchinEeze® 70mg (Echinacea)
£5.05
---
A traditional herbal medicinal product used to relieve symptoms of the common cold and influenza type infections based on traditional use only.
Suitable for vegetarians and vegans
Each tablet contains 70mg of dry ethanolic extract equivalent to 460-530mg Echinacea purpurea root. It also contains other non-active ingredients. These ingredients are: Herbal extract: Maltodextrin; Silica colloidal hydrated. Tablet core: Calcium hydrogen phosphate dihydrate; Cellulose microcrystalline; Silica colloidal hydrated; Croscarmellose sodium and Magnesium stearate.
One tablet contains 70mg of dry extract from
Echinacea purpurea
root equivalent to 460-530mg of
Echinacea purpurea
(L) Moench root
For oral use.
Adults, elderly and children over 12 years take 1 tablet 3 times a day.
Start at the first signs of a common cold.
Do not exceed the stated dose.
Always read the information leaflet before taking.