Introducing our new ambassador IFBB Pro Ruth Dales
Ruth Marie Dales International Athlete, IFBB Pro Bikini Fitness, Pharmacist, Prescribing Advisor, Independant Prescriber, Sports Nutritionist
Biography
In September 2013 I entered my first amateur Bikini Fitness competition. From what started as a bit of fun whilst I was rehabbing from ill health and injuries I discovered a real passion for aesthetic sport. It was doing my first shows that I became aware that there were some practices going on amongst some aesthetic competitors in order to get stage ready that were alien to me as a national level track and field athlete. I became intrigued to see how far I could go within the largest and longest established bodybuilding federation in the world whilst staying both World Anti-doping Agency (WADA) compliant and without undertaking practices such as water manipulation, carbohydrate depletion/ loading, low calorie diets etc. that I'd heard many aesthetic competitors talk about back stage. So I decided to enter the 2014 National Championships, a WADA Drug tested event. The winners earn a place on the UK National team and compete internationally on the amateur circuit. If you are successful on the International Amateur circuit athletes can earn their Pro Cards to compete in the IFBB Professional League.  Its only through qualification through the IFBB Professional League that athletes can qualify for the highest stage in the world; the Olympia. So this seemed like the logical place to start my journey. To my surprise I won the UK National Title. I went on to represent the UK National Team. My international placing progressed and only 5 months later in October 2014 I was awarded my IFBB Pro Card. After many years of dedication and hard work as a track athlete, sacrificing a normal student life through university, forcing myself to train around full time work once I graduated and persevering through injuries and rehab, I finally felt like everything had come together and I had achieved something extremely rare that I could be very proud of. In January 2015 I launched my Pro career and became only the 3rd athlete in UK history to set foot on the IFBB Professional League stage as a Pro Bikini Athlete and placed 6th in my debut show. Words can't explain what this meant to me and how proud I am to have achieved this all under my own coaching and staying true to my belief in the WADA code and in healthy practices.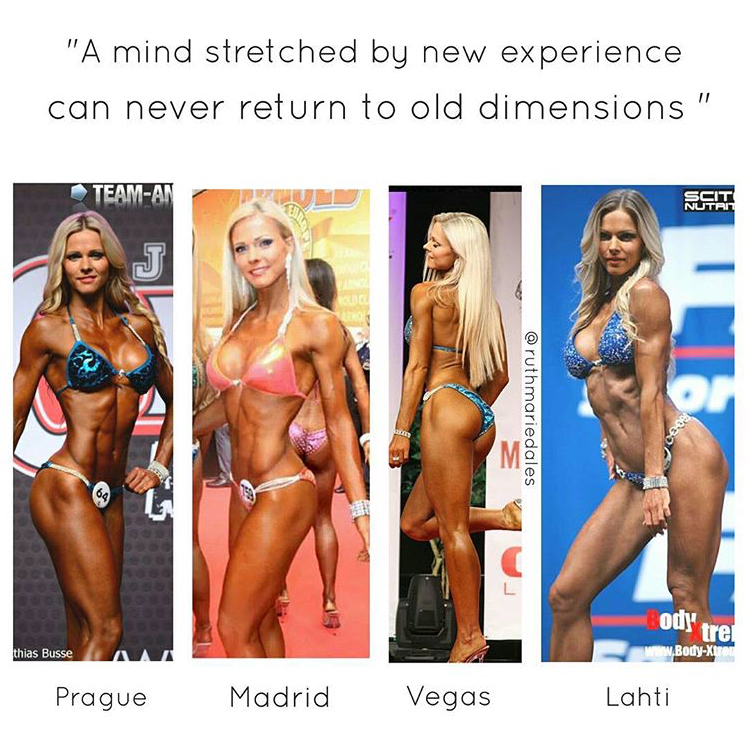 Ruth isn't just a IFBB Pro but also competes on track with TeamGB !!! "If you'd have told me at Christmas that I'd be competing on the track after a 5 year break, PAIN FREE for #teamGB at the European Masters Championships and placing 6th in my heat I would not have believed you! I've really enjoyed myself and so very pleased with my performance. I started back training in February after a 4month lay off due to injury"
Awards
Legends Las Vegas IFBB Pro Bikini 6th IFBB PRO October 2014 UKBFF Overall British Champion 2014 British Champion Bikini Fitness 2014 (u166) Arnold Classic Europe Bronze Medal 2014 (u166) Olympia Amateur Europe finalist 2014 (5th place u168) IFBB European Championships semifinalist 2014 (u166) UKBFF UK Champion Bikini Fitness (u166) 2014 UKBFF Midlands Bikini Fitness (Tall) Champion 2013 UKAthletics Yorkshire 100m Hurdles Champion (4 times) Brand Ambassador for Riot not Diet Streetwear KPA UK Bikini Squad 2013 Miss February (second place) Miss Bar11 2012 KPA Model of the Year 2012 (5th Place) KPA Top Swimwear Model 2012 (5th Place) KPA Fitness Model of the Year 2012 Preliminary finalist MaxiMuscle Body of 2008
Leave a comment
Comments will be approved before showing up.