Free DPD Delivery on Orders Over £75
BPI Sports Funnbar 12x48g
Sold Out £23.99
The day that sweet met nutritious, FUNNBAR™ was born! FUNNBAR™ is a delicious and convenient way to get your protein; packing 15 grams of protein in every bar. This high fiber, mouthwatering bar lets you FEED your FUNN side while allowing you to stick to your nutrition goals. No time to mix-up a protein shake? Always on-the-go? Late night at work? NO PROBLEM. Just open up a FUNNBAR™ and satisfy your sweet tooth without the guilt.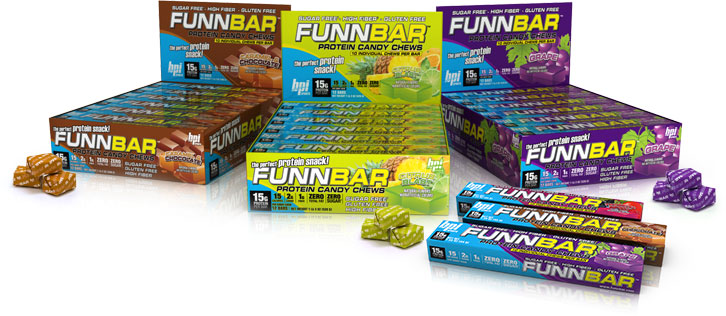 What is funnbar™
FUNNBAR™ is the first of its kind! Protein has never tasted this good or been so convenient. Each FUNNBAR™ packs 15 grams of protein and 10 grams of fiber in 10 individually wrapped chews that taste like candy! These delicious, gluten-free chews are available in all-natural flavors: Caramel & Chocolate, Tropical Berry, Watermelon, Citrus Blast, Grape and Cookies & Cream. FUNNBAR™ is the perfect protein snack for eating on the run, throwing in your gym bag or sharing with a friend.
What makes it different?
BPI Sports has revolutionized protein consumption with FUNNBAR™, the first ever protein chew to hit the market. FUNNBAR™ tastes like candy and is an easy, delicious and quick way to get your protein — on the go, whenever or wherever you want. FUNNBAR™ offers the ultimate in convenience when it comes to protein intake. No time to mix a shake or eat a meal? No problem. Just open a FUNNBAR™.
---
---